As Christmas cards and letters start to drop through the letter box, here I am again only just sitting down to get started on an update of our news for family and friends! So here goes: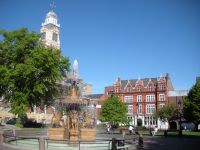 The biggest news this year is that we're planning to move house – not far – just into the city of Leicester to join a team starting up a new branch of our sister church in Derby. City Church Leicester is due to launch in September 2011 – if you're interested you can find out more here www.citychurchleicester.org. For those who are asking, "Does Leicester really need another church?" we would just say, "Why not…there's plenty of room for everyone". Our vision is to be a community based church that goes out to meet people where they are, rather than wait for them to come to us. Not quite sure what how this will work out in practice, but watch this space! The group, led by Ben and Esther Rook has started getting to know each other at monthly gatherings and detailed planning will start in the New Year.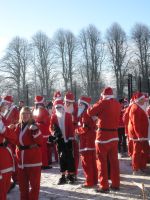 Not that life is boring back in Lutterworth… Lutterworth Community Church is expanding to become South Leicestershire Community Churches. This all started when we were invited to help relaunch a dwindling Baptist group in the village of Cosby earlier this year. Then the people running our JUST kids club in another village started a monthly JUST Church service in the parish church. Change may not be comfortable or easy but we think it's worth it! As a church, we've been involved in some great activities this year:  the usual August carnival and Christmas lights switch-on, and this year for the first time the Lutterworth Santa Fun Run – not to mention Alpha and Journeys courses, the international coffee club etc. etc. In June Trevor took part in a 3 day preacher training course run by our group of churches in Derby – we both speak at LCC from time to time and Mary is now leading bi-monthly prayer concerts on Sunday mornings.
In the light of our proposed move, a fair bit of time has gone into redecorating and de-cluttering the house this year. Mary is an inveterate hoarder, who never wants to throw anything away, if it might possibly come in handy later, but at least the likes of charity shops, eBay and Freecycle mean our surplus items are going to good homes. Still some way to go on this front though – we've been here for just over 17 years, believe it or not!
What else has happened this year?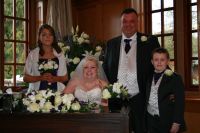 In February we celebrated Trevor's Mum's 80th birthday with a family meal out in Shepperton. Sheila is still working at a local cat rescue centre and fostering pregnant mother cats and new-born kittens in her sun lounge. This was followed soon after by the wedding of Trevor's brother Keith and his partner Tigi. We all had a fantastic day out at the Pennyhill Park Hotel in Bagshot.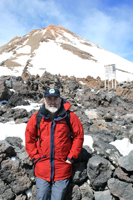 After the long cold winter of 2009-2010, we felt in need of a break in warmer climes and headed off for a week in Tenerife – managing to avoid both the storms and floods the island had suffered not long before and the disruption of air traffic caused by the Icelandic volcanic ash cloud. We also arrived just in time to experience the colourful carnival procession in Los Gigantes. Apart from that we enjoyed lots of long walks along the rocky shoreline and a trip on the cable car up Mount Teide, although Trevor did spend a couple of days suffering with a tummy bug.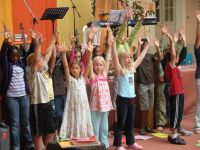 The Destinee French camp moved to a venue to the South East of Paris this year. Mary decided to drive her aging Ford Fiesta to this nearer location and persuaded her friend Sue to act as navigator. I'm happy to report that the journey went smoothly (except for one mistake on the way back which had us temporarily heading for the centre of Paris instead of Calais) and that we had a great time practising our French, catching up with old friends and meeting new ones. Then it was off to our UK church camp, Transform, which was also trying out a new venue in the rolling English countryside near Evesham. Despite, or perhaps because of, last minute changes of speaker, this turned out to be a truly inspirational event, possibly the best ever.
Mary's job at the Chartered Management Institute has been even more stretching and challenging than last year – in fact at one point she was heard to say that she felt as if she had three jobs not one – one in the library and enquiry service, one helping to launch the CMI Management Book of the Year competition and the third acting as editor for the Management Checklists and co-ordinating the group of subject matter experts who help us keep the checklists up to date. Thankfully, at the annual review she managed convince her boss she needed someone to help with the latter. It's been a tough time at CMI, as for many membership organisations and there has been a restructuring exercise, a few redundancies, (thankfully not in Mary's department) and lots of change, not all of it welcome. On the plus side, however, the book competition was launched successfully and attracted 145 entries in the three categories. The short list was selected in October and the winners will be announced at the British Library on 25th January 2011. If you want know more have a look at www.managementbookoftheyear.org.uk. Perhaps when we move to Leicester I'll be able to get a nice part-time job!
Trevor has been working hard to bring in business attending both early morning and evening networking sessions organised by 4Networking, The Business Club, Leicester, the Federation of Small Businesses (FSB) and various chambers of commerce. From time to time he is asked to give short talks on topics such as social media and business continuity planning. Trevor is now Vice Chairman of the South Leicestershire branch of FSB and is working on a bid to host the 2013 FSB conference in Leicester. The monthly networking events organised by Trevor under the name Network Midlands are much appreciated in the small business community and numbers have held up well. This year Trevor completed a Diploma in Event Management with merit and is now doing a marketing course.
As ever, we both have our own 'extracurricular' activities: ongoing difficulties with his shoulder mean Trevor hasn't done much archery this year, but he has taken to going to the gym regularly. Mary is keeping up her swimming once or twice a week after work – the record is 64 lengths – a whole mile, but I've only achieved that once so far – 30 or 40 is more usual! She enjoys the monthly Parlez Francais French club in Market Harborough and her painting has improved (a little). She's still active in the Librarians' Christian Fellowship while Trevor is also still on the committee of Lutterworth Twinning Association.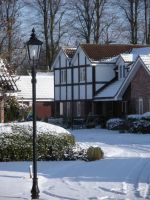 The Midlands has got off very lightly in the recent snowfalls, but it has been pretty cold – down to minus 7 or 8 first thing in the morning. The Leicestershire countryside has been stunningly beautiful in the frosty mornings with wonderful sunrise and sunset skies. We're hoping we won't have too much more snow so that Trevor's Mum and brother Graham will be able to visit in Lutterworth on Christmas Day and we will join them in London on Boxing Day.
All our very best wishes to you for Christmas and the New Year!
Trevor and Mary
Save
Save